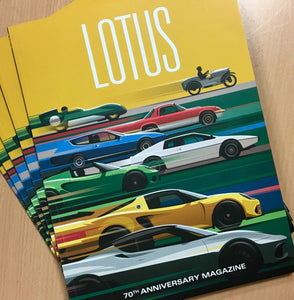 Capturing the heritage and passion behind one of the all-time great automotive marques, Newspress Creative was tasked with managing the production of a new publication covering the history of Lotus for its 70th celebrations.
In 1948 Colin Chapman built his first competition car is a small London lock up, following his own theories for improved performance. From that small garage sprang a global brand famous for its amazing road cars and its success on the race tracks of the world.
Covering not only the early years, and the famous racing team, but also the marques' most illustrious models, Lotus' 70th magazine charts the company's history to the present day and beyond. An essential read for Lotus owners and enthusiasts, it's packed with new photos and stories that give fresh insight to the great British brand.
From the tone and feel of the magazine, through to its delivery in time for Lotus' celebration event in Norfolk, Newspress Creative ensured that the finished publication proved engaging to read and aligned with the company's communications strategy.
Responsibilities included flat plan supervision, briefing authors, drafting important messaging and articles, fact checking and proofing, right through to final sign off.